The 5 occasions where you never thought you could wear linen clothes, but thanks to 100% Capri you can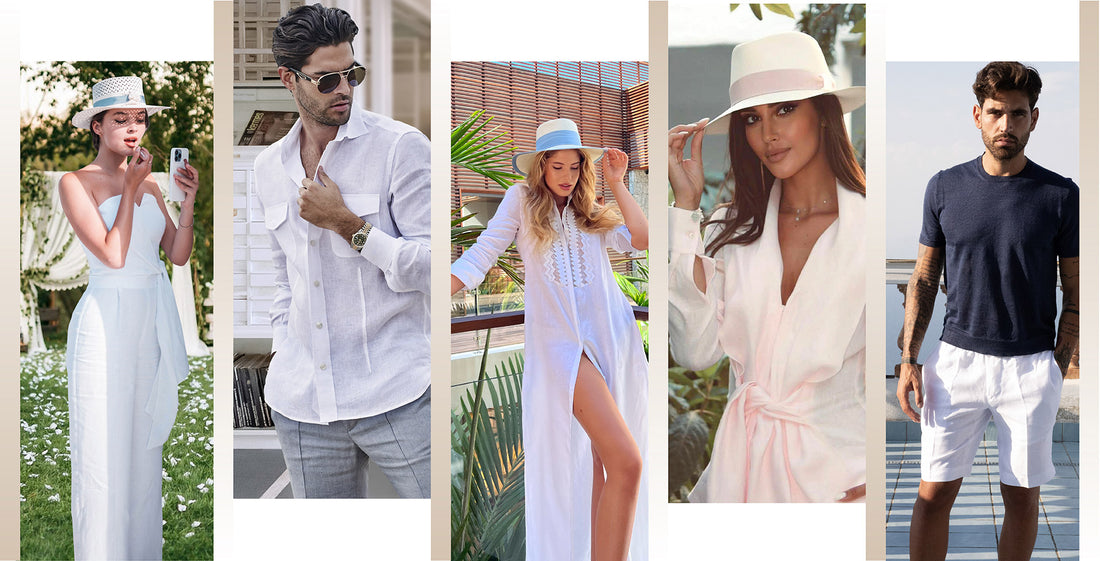 Linen is an incredibly versatile fabric with a naturally elegant appearance. It's perfect to wear for various occasions due to its breathability, which allows for freshness in warm climates while providing comfort and warmth when temperatures begin to drop. 100% Capri, the world leader in high fashion linen clothing, has created entire collections that boast incredible versatility of use, while maintaining a clear and constant idea of a look that is the perfect combination of elegance and comfort. In this article, we will discover how linen can be worn easily in 5 completely different situations and contexts.
Summer weddings
If there's a summer wedding planned, linen is the perfect choice for your guest attire. The creations of 100% Capri, which manage to enhance and further valorize the natural beauty of linen, are expressed in a series of outfit proposals that combine perfectly with the romantic and festive atmosphere of summer weddings. Jumpsuits, shirts, and pants offer a wide selection that lends itself to easy pairing with accessories in line with the occasion. Additionally, as already mentioned, linen is highly breathable, and can guarantee freshness and comfort to spend even the longest ceremonies in total relaxation, without sacrificing a finely sophisticated style.
Corporate events
If your work schedule includes an important corporate event in particularly hot days or locations, linen is an excellent choice for your attire. The professional and refined appearance of linen will make you look confident and at your best, allowing you to wear jackets or shirts that in other fabrics would risk weighing you down and facilitating unpleasant sweating. Instead, with the garments proposed by 100% Capri, you'll have an impeccable image even during the most demanding workdays.
Summer vacations
If you're packing for a summer vacation, you certainly can't forget to draw from your linen wardrobe. The breathability of this fabric, which is already intrinsic, is further enhanced by the aloe treatment that 100% Capri gives to its linen before it's transformed by the stylistic genius of Tony Aiello and therefore will help you maintain freshness and lightness throughout the day. And it's precisely for this reason that, in total comfort, you can dedicate yourself to any activity you decide to do on your carefree days: beach club, luxury tour, jogging, etc. Finally, linen is easy to wash and care for, making it even more perfect for the clothing to take with you on your travels.
Formal occasions
It's strongly mistaken to think that linen is only suitable for casual, everyday clothing without any pretense. 100% Capri sweeps away this concept by giving this noble fabric its proper value and making it, through the creation of stylistically curated models, perfect for even the most formal occasions such as gala dinners, award ceremonies, and other situations that require an outfit of sober elegance. Additionally, when linen is of excellent quality, it doesn't easily allow for the formation of folds and wrinkles, ensuring that your clothes remain as if they were just ironed for the entire duration of the event.
Casual days
Lastly, it's known that linen is particularly suitable for all those informal occasions where you prefer the comfort of casual clothing, but which at the same time boasts an elegant and curated touch. 100% Capri offers a collection of knitwear, both for men and women, which combines perfectly with jeans, shorts, and Bermuda shorts. Alternatively, you can choose linen, linen thread, and linen jersey shorts and pants to complete your relaxed outfit. In summary, linen is a versatile and resilient fabric that can be worn in many different occasions, and for this reason, 100% Capri offers numerous proposals that range from the most refined to those that require practicality and comfort. From summer events to weddings, from formal occasions to casual days, linen is the ideal choice for those looking for an elegant, fresh, and comfortable fabric. Just choose, just trust 100% Capri.